The evidence around viral suppression and HIV prevention is conclusive and the message around U=U is potentially a powerful tool to reduce stigma and encourage testing.
Increased efforts must now focus on wider dissemination of this powerful message and ensuring that all HIV-positive people have access to testing, effective treatment, adherence support and linkage to care to help maintain an undetectable viral load. (Professor Alison Rodger when Partner 2 results were published in 2019)
Since the Swiss Statement was published in 2008, the evidence that people living with HIV on treatment with an undetectable viral load would not transmit HIV has increased. These scientific studies include the HPTN – 052 study,  the PARTNER study, and the Opposites Attract study.
In 2019 the second phase of the PARTNER study (Partner2) published its final results in Lancet. Up until this, the level of evidence for U=U in gay couples was limited compared to heterosexuals. The aim of the second phase was to provide precise estimates of transmission risk in gay male serodifferent partnerships. Over a 10 year period, 970 couples enrolled. There were over 76,000 instances of condomless sex with 288 (37%) of 777 HIV-negative men reporting condomless sex with other partners. There were 15 transmissions which occurred but they were not phylogenetically linked within-couple transmissions but were from sex with a person other than the regular partner. The findings showed a transmission rate of zero within the partners. The evidence on viral suppression and HIV transmission risk for gay men was equivalent to that previously generated for heterosexual couples. (Rodger, 2019)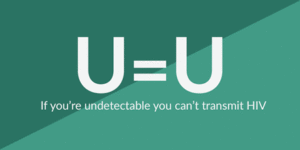 There are still significant challenges to preventing HIV transmission. Stigma and discrimination remain a barrier to testing. It is also timely to remember that 1 in 10 people living with HIV in Australia is unaware of their status. Late diagnosis disproportionally affects some communities including culturally and linguistically diverse (CALD) men and women.
As Professor Alison Rodger quoted above, the message about U=U can be a powerful tool for reducing stigma and encouraging testing. It is important that the message is shared in as many environments as possible. This includes the general community as well as people living with HIV and their partners.
It is important that we don't forget to share this important message with all people living with HIV as well as providing support around adherence and linkage to care for all people living with HIV. There are a small percentage of people who face challenges reaching undetectable levels including those who take their treatment as prescribed.
ASHM has published a resource to guide clinicians when talking to people about U=U. It briefly summarises the science, terminology and lists links to resources for patients and clients.