25 – 27 October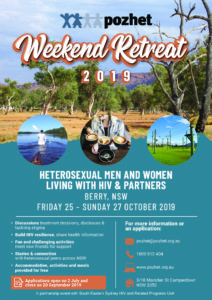 Pozhet, in partnership with South East Sydney Local Health District, is holding our annual retreat on the weekend of 25 – 27 October at the Berry Sport and Recreation Centre.
All heterosexual people living with HIV, partners and family members are welcome to apply.
Accommodation, food and activities are all provided free of charge. Travel arrangements are up to the individual.
Applications open on the 2nd July and close on 20 September 2019. For more information contact Pozhet on 1800 812 404 or email pozhet@pozhet.org.au.