The Western Suburbs Haven in Blacktown provides a variety of services for people living with HIV and their partners and families. The Manager, Colleen Neville has kindly agreed to tell us more about what the Haven does.
Hi Colleen, Could you tell us a little bit about the Haven and your role there?
As the manager, one of my roles is to assist people living with HIV who visit the Haven. Sometimes people come in just for the social interaction, for a cuppa and a chat with myself, their peers or our volunteers. Sometimes people come in for a specific purpose such as help with accessing community services, housing, Centrelink, healthcare, general info, arranging transport, or help to access the computer and internet.
We run mostly on volunteer labour and these dedicated volunteers donate many hours to caring for our guests and service users and work hard fundraising, cooking, cleaning and driving, as well as attending to various other duties to make a difference to the lives of people living with HIV.
Who can access these services?
People Sydney-wide living with HIV access our services. We also offer two bedrooms for respite and convalescence care and this service is available for people from across NSW.
What is the Pantry service?
The Pantry service provides fresh food and groceries to people living with HIV at very discounted prices. You can also buy discounted cosmetic and toiletry items. Don't forget to bring a bag!
I hear you also have a Friday lunch which is popular. Can people just turn up for lunch or should they let you know they are coming?
Friday is The Haven's main drop-in day for lunch and HIV and social support. Generally, people just show up. We do ask groups to call the day or so before so that the volunteers know how many to cater for.
Our Friday lunches consist of BBQs to homemade meals, dessert, tea and coffee, all for a small price of $4.00
We welcome people to come along for lunch and a chat, to meet some new people or to reconnect with others.
We can pick up and drop off at Blacktown station if you let us know you are coming as long as you call us before 11:40am. We also provide lunch for visitors on Mondays to Thursdays for a gold coin donation.
Is there anything more you would like to tell people about this great service?
Our opening hours are a general guide for those who regularly use our services, but for those who work or genuinely cannot come during these hours to shop we can occasionally organise something outside of regular hours.
If you're thinking about coming to the Haven for the first time, I ask that you give me a quick call to let me know. This way I can also tell whoever is in the office or the volunteers on duty to expect and welcome you if I won't be here. We do this to protect the privacy and confidentiality of those that use our services.
Thanks Colleen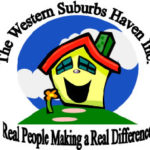 Pozhet holds some events at the Haven so keep your eyes on the website.
Contact the Haven by calling 9672 3600 or visiting The Haven