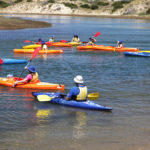 In September Pozhet held a Retreat for heterosexual people with HIV in a lovely location in a regional area North of Sydney. The Retreat was also open to partners and family members of people with HIV. As always we prioritised people who are newly diagnosed, people from Aboriginal and culturally diverse backgrounds, and those experiencing isolation in remote areas of NSW.
28 people attended the Retreat, with a good mix of men and women, negative partners and one family member who learnt a lot!  Although our Retreats have accommodated hundreds of people over the years, this was the biggest Retreat we have ever had and it went very well according to all who attended. All participants said they learnt more about HIV treatment, disclosure and how to use the knowledge they gained to make a positive difference in their lives. This was also the case for connections made and many said they would make more of an effort to 'get out there' and connect with others.
Living with HIV can be an isolating experience, and the Pozhet Retreats aim to address this by connecting people so they can learn from each other about how to engage more meaningfully with life.
Another first for this Retreat was having four staff present – 2 from Pozhet, Maxine and Susan, and two male facilitators – Richard Riley (Hunter New England) and Leo Baretto (South East Sydney). All four led discussion and activity groups about disclosure, the journey with HIV,  a dialogue between those living long-term with HIV and those recently diagnosed, information sessions about My Health Record, Undetectable Viral Load and the U=U campaign, legal issues, sex, dating and relationships.
Participants spoke about their lived experience and knowledge about living with HIV and there were many great opportunities for people to connect; in large and small groups and one-one.  Then there was the Canoeing and Archery and a roaring Campfire on Saturday night. It was a great weekend and Pozhet will be running more of these Retreats.
Did you attend the Retreat? Tell us your thoughts in the comments below…