The Summer 2020 edition of the Pozhet Client Newsletter has now been posted and emailed to Pozhet clients.
Topics include:
Healthy eating tips on a budget.
Latest resources – HIV: What you need to know and the new Pozhet website.
Personal experiences of John – a staff member – on the Pozhet retreat.
Multicultural HIV and Hepatitis Service client support program.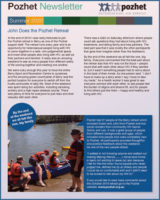 You can read it and print it here.  If you would prefer a copy posted out to you or want to join the mailing list, please email Pozhet or call 1800 812 404.