Pozhet celebrates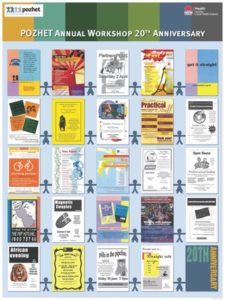 Last Saturday, on the 28th November at the Pozhet Annual Workshop we celebrated the Workshop's 20th anniversary. It was attended by over 50 clients, from Sydney and regional NSW, guest speakers and service providers. The event started with a range of special guest speakers, followed by a panel of positive peers, and then information from other state-wide services.Mirada Shaw, General Manager of Sydney Local Health Service Local Health District (SLHD) Community Health Services talked about her early connection with the service and her continuing involvement with the service as GM. She also announced a grant of $10,000, to fund a consumer led program, which will be coordinated by the Pozhet team.
The Chief Executive was unable to attend but sent along a message of thanks and emphasised the District's ongoing commitment to the service and to ensuring a voice and program for heterosexual people with HIV.
Dr Roger Garsia, Immunologist RPA Hospital, has been on the forefront of HIV in NSW since the 1980s and has been an integral supporter of Pozhet. He spoke of his first contact with HIV when he was seeing people with haemophilia who had been treated with blood products that were later found to be contaminated with HIV.
David then spoke about the founding of Pozhet and the funding that Pozhet receives from SLHD. David was responsible for setting up Pozhet over 23 years ago when there were no support services available for heterosexual people living with HIV. He manned the freecall and support line, originally in the Albion Centre, until funding was increased by SLHD to provide an office space and paid staff.
Next on the program was an interactive panel, where positive and negative speakers talked about relationships, issues for regional people, disclosure, isolation and keeping secrets, Pozhet support over the years, women's issues, late diagnosis and staying well.
Statewide service providers Bobby Goldsmith Foundation (BGF), HIV/AIDS Legal Centre (HALC), and Multicultural HIV and Hepatitis Service (MHAHS). They spoke about what their services can provide to clients and how to access them. After a relaxed lunch, David from Positive Life NSW talked about the new evidence from the START Study and PrEP (Pre-exposure prophylaxis), new treatments and treatment as prevention.
Members of the Pozhet Consumer Group, which is a group of Pozhet clients which provides advice and feedback to Pozhet, spoke about what the group does, how other clients can get involved with the group, and how to register their interest.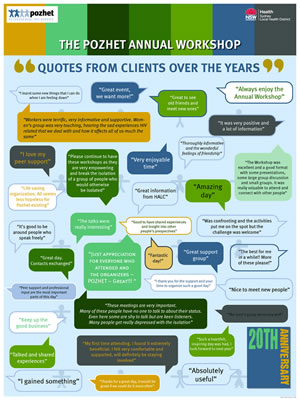 Following the more structured program, clients broke off into three smaller facilitated groups with themes of men, women and partners. After an hour of group discussion, clients reformed and heard feedback from all the groups.
The day's workshop was then bought to a close, with a reminder to all clients about the Pozhet website, new resources, and how to register to be on a working group.
Thanks to all  clients, guest speakers and other guests for a great day. We would like to hear your thoughts and comments so please leave your responses below.