"The Coronavirus has made me feel more alone than ever before"
The current Coronavirus (COVID-19) pandemic in Australia and the ensuing lockdown and social isolation has created an environment where Yasser, a man living with HIV and who lives alone started reliving past traumas. His counsellor reminded him of the joys of connecting with others and this as well as his own resilience helped get him through to the other side.
Yasser Ibrahim arrived in Australia as a humanitarian refugee in 2017. Yasser who was, in his own words "persecuted and stigmatised in my own country" has an incredible story of survival. He shared some of his experiences growing up in Egypt where stigma about HIV and taboos about sex and sexuality increased the suffering he endured as a young man.
Yasser, a proud Egyptian man in his forties, has three sons, all of whom live in Egypt. Yasser lives alone in a small flat in Western Sydney. He does not have a big circle of friends, rather just a few and to quote Yasser "Coronavirus has made me feel more alone than ever before".
Yasser who has been diagnosed with PTSD (post-traumatic stress disorder) and a major depressive illness, described to me that on a "normal day" he struggles with feelings of loneliness and isolation and that the current situation does not help with his feelings.
During the current pandemic with the social distancing and lockdown, Yasser described to me that he started suffering from flashbacks associated with his past traumas, whilst living in Egypt. These flashbacks have become more frequent and also more detailed. Yasser spoke about how this interrupts his sleep significantly and how sometimes in the morning he doesn't want to get out of bed.
We also spoke about, how during this time Yasser has been having times of real anger. These feelings of anger are not necessarily associated with Yasser's past but more related to the current situation of isolation and not having close relationships with people who he can share his current experiences with. "I would love to have someone special, to share things such as walks, a companion". I couldn't help but feel for Yasser at this moment.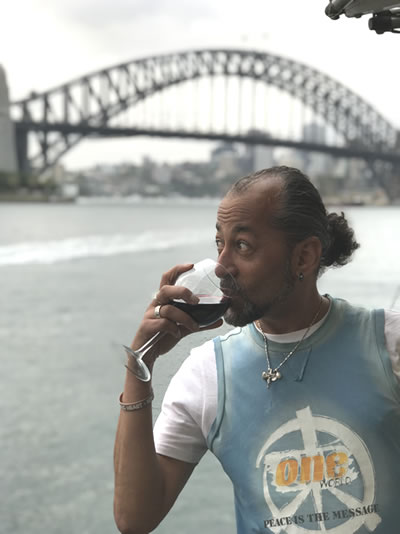 During his time here in Sydney Yasser has linked up with a counsellor whom he sees regularly. It was during one of these session that Yasser was reminded of activities he enjoyed. Simple activities like going for walks, yoga and connecting with his online friends to share his feelings are activities Yasser can do while social distancing.
Throughout this difficult time, Yasser spoke from the heart about the joy he is getting from recently reconnecting with his three sons, his mother and sister, all of whom live in Egypt. This reconnecting has allowed for his family to feel somewhat reunited, and reminded Yasser of the importance of family. "This brings me the greatest joy and is something I look forward to". Yasser also connects with young people, students and offers them support and mentoring via the internet. He shares with them his experiences and offers advice on issues they face as young people living in a modern Egypt.
Lastly, we spoke about the future and Yasser's hopes and dreams for the future. Yasser spoke with excitement about a course he is studying to become a counsellor. This course is something he feels suits his desire to genuinely help and connect with people. The course is full time and allows Yasser to attend classes on campus at Macquarie Park, three days a week. He also has the opportunity to meet and connect with other students and is thoroughly enjoying his time studying. He looks forward to completing this Diploma and working with young people.
Thank you for your time and sharing your experiences Yasser.