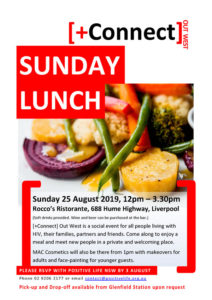 Pozhet will be at [+Connect] on Sunday 25 August 12 pm –3.30pm at Rocco's Ristorante, 688 Hume Highway, Liverpool. Please let your clients know that they, their partners and family members are welcome to attend.
Pozhet newly partnered with Positive Life for these events. The one in May was attended by a few Pozhet clients who all reported enjoying the evening and the atmosphere and conversations with others.
[+Connect] Out West is a social event for all people living with HIV, their families, partners and friends who are welcome to enjoy a meal and meet new people in a private and welcoming place.
MAC Cosmetics will also be there from 1pm with makeovers for adults and face-painting for younger guests.
Please encourage those who want to attend to RSVP by contacting Positive Life on 02 9206 2177 contact@positivelife.org.au