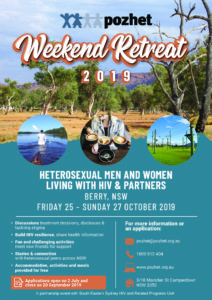 The Pozhet 2019 retreat will be held at the Berry Sport and Recreation Centre. There will be places for up to 30 people. Applications close on 20 September.
Pozhet, in partnership with South Eastern Sydney Local Health District, is holding the 2019 annual retreat on the weekend of 25 – 27 October at the Berry Sport and Recreation Centre.  All heterosexual people living with HIV, partners and family are welcome to apply.
The Pozhet retreats are a great way to meet other people, have peer to peer conversations, feel supported and stay informed about living with HIV. The Berry Sport and Recreation Centre is situated  in beautiful surroundings on a river and is a great place for walks and other activities.
Accommodation, food and activities are all provided free of charge. Travel is up to the individual. For people using public transport, Berry is about a 2.5 hour train trip from Sydney Central Station.  Pozhet staff members give those who travel by train a lift from Berry train station to the Sport and Recreation Centre.
Application forms and promotional material will be available on the Pozhet website https://pozhet.org.au/  from July and will be emailed to services and clients on the Pozhet mailing lists at the same time. Applications are open now and will close on 20 September 2019. For more information contact Pozhet.