The Dried Blood Spot (DBS) Test is an innovative pilot program offered in partnership with the Ministry of Health, St Vincent's Hospital and Sexual Health InfoLink. It offers an easy, self-sampling option for anyone wishing to have a HIV or hep C test.
As a simple finger-prick blood collection the DBS is particularly useful for clients who may not get tested regularly or who experience barriers to conventional testing services.
DBS kits are ordered through the DBS website www.dbstest.health.nsw.gov.au/ and mailed directly to the client, who completes the test with a few drops of blood, and returns the completed test card using the supplied reply-paid envelope. Results are then sent to the client via text, email or phone call.
Alternatively, health and community services which are registered as DBS sites can assist clients to undertake DBS testing or distribute DBS kits throughout NSW.
Key benefits of the DBS testing method include:
allowing clients to test for HIV and hepatitis C discreetly and privately
providing an alternative for clients where venepuncture is not suitable or desirable;
creating opportunities to deliver testing in non-clinical settings.
Recent changes to the DBS website mean clients can choose to test separately for either HIV or hepatitis C, with the ability to opt-in for HIV testing for those eligible for hepatitis C only.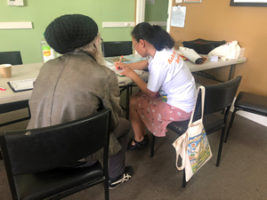 As a DBS Pilot Site since 2019 the Sydney Local Health District Gastro and Liver Service has been able to utilise the DBS test in a number of non-clinical settings. It has been particularly useful for clients self-dosing pharmacotherapies who may otherwise not be engaged with clinical care around their potential risk of HIV or hepatitis C.
For more information please contact the DBS Pilot Coordinator, Nigel Carrington, at Nigel.Carrington@health.nsw.gov.au or 0409 382 966.